Biography
By Eva Furseth, Kunstkontoret AS
Per Lysgaard is a second-generation ceramic artist who lives and works in Røros, Norway. Since 1987 he has worked fulltime at his ceramic workshop and gallery in Røros. As of 2005, his sculptural expression has developed around the theme of ocean life, especially the marine plants and animals that create an illusion of weightlessness. In recent years he has worked extensively with public art, both nationally and internationally.
Early Works
Lysgaard was born in 1958, in the northern Norwegian city of Tromsø. His Danish parents were Salvation Army officers, a vocation requiring them to move often. During the first thirteen years of Per's life, his family moved fifteen times. When he turned sixteen, the family had lived for three years in Tåstrup, Denmark. His father retired from the Salvation Army and began working as a potter.
Per had enjoyed drawing all his life and now threw his energy into workshop activities. He learned to use the potter's wheel to create functional objects, but was most of all interested in free sculptural expressions. He spent much of his free time on ceramics, in addition to drawing, painting and graphic art. He did not go to art school but was profoundly influenced by an art teacher at secondary school. In addition, he drew inspiration from F.R.D. Hundertwasser, Antoni Gaudi, Marc Chagall and ancient Egyptian art. Like most young artists he experimented widely, taste-testing from the rich smorgasbord of artistic genres. Here we find both naturalistic sculpture-portraits and pure abstract forms; some long and slender feminine necks fuse into a bouquet, while other figures have a whimsical expression.
Lysgaard debuted at eighteen years old with an exhibition of ceramics, drawings and paintings. The venue was the Danish National Bank in Tåstrup (1976). He also exhibited there the following year. Yet in spite of the favourable response, he was unsure of whether he wanted to be a fulltime artist. In the following years his life pattern was similar to many a young person who lacks clear direction, yet he continued to pursue his art. He built a ceramics workshop, sold his production at markets, then relocated, built a new workshop and repeated the scenario. He worked at two workshops run by other ceramic artists in Denmark and spent a year creating ceramics at Valdres Sølvsmie in Norway. Alongside of this, to make ends meet, he worked industrially, producing kitchen furniture, ovens and car windows, and as a dairy farmer.
Røros
In 1983 Lysgaard moved to Røros, Norway. On Kjerkgata, a pedestrian street in the centre of town, there was an old dilapidated house. He bought it in 1985 with the plan of turning it into a new ceramics workshop and gallery. The house was falling apart and ready for demolition, but Lysgaard set to work and restored it in one and a half years. He then opened Lysgaard Ceramics – a workshop and gallery. Since 1987 he has worked fulltime with ceramics, dividing his time between functional art, sculptural expressions and public commissions. At present his gallery welcomes approximately 60,000 visitors per year.
It is safe to say that Lysgaard has made an indelible mark on Kjerkgata. Each gallery room is richly and imaginatively decorated, so also the courtyard. Tiles and sculptural forms interact in cheerful, colourful rhythms. Here one can immerse oneself in small details, such as in the beautiful tile pattern inserted between flagstones – or be overwhelmed by the six-meter tall ceramic tree in the courtyard, decorated with ornamental penises and breasts.
During the 1980s and '90s Lysgaard worked with organic fabulations that often had an erotic character, e.g., phalluses, breasts or sperm patterns. These works are characterized by great élan, calling to mind Northern European Neo-Vitalist art from the first three decades of the twentieth-century.
The Vitalists protested against the tendency of science to reduce all nature and humanity to physical and chemical causes and effects. They claimed that science was ignoring the very essence – the life-force – which was neither chemical nor physical. The Vitalists celebrated healthiness as a reaction to fin-de-siècle melancholia and world-weariness. Main proponents for this artistic direction were Edvard Munch and Gustav Vigeland, who used the theme of the 'virile male' to replace the 1890's 'femme fatale'.
It starts with a ring
In the late 1990s Lysgaard developed a more simplified style. The organic forms metamorphosed into a visual idiom with clear associations to aquatic life, yet rendered as independent forms. These new works reflect two of the artist's enduring interests: scuba diving and aquariums. Sensory experience is still close at hand, however, and although the sculptures have the weight and solidity of stoneware, their soft, curving forms seem to be afloat.
As three-dimensional sculptures, these works are best experienced when we can walk around. While a painting fools our eye by creating the illusion of depth, a sculpture extends into the exhibition room's real space. This gives the sculpture a powerful presence that almost forces us to notice it. As the goldsmith and sculptor Benvenuto Cellini (1500-71) said, 'the art of sculpture is eight times as great as any other art based on drawing, because a statue has eight views and they must all be equally good'.
The sculptures are built using layer upon layer of long, thin 'sausages' of clay. Lysgaard always begins with a ring of clay, either oval or round. The larger sculptures are built in modules that are fired and then joined together with a special elastic adhesive. This exceptionally strong material is the same as tin smiths use to fuse together rain gutters. The adhesive holds up to twenty kilos per square centimetre.
Instead of working from drawings, Lysgaard creates his sculptures in a more serendipitous manner, fabulating until a form 'sits'. In the subsequent works he develops the form further, thus exploring the form by creating a series of similar works. Some of these are quite humorous, with a mannerism of long, sinuous twistings. He also experiments with the surfaces – adding nodules and creating varieties of textures and glazes. Characteristic for his expression are strong colours and recurring shades of yellow. The way he constantly alternates between functional objects and artworks also is a source of inspiration, for there is a synergy that generates new ideas.
Since that eventful year he has received several commissions for public art and exhibited in international contexts as far a field as South Korea, San Francisco, Germany and Spain.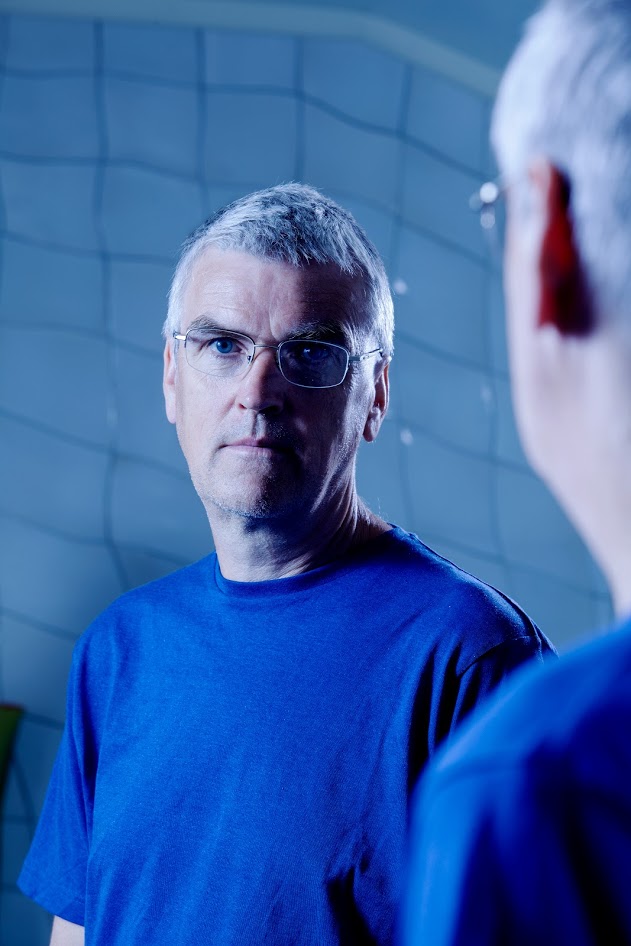 Resume
I am a second-generation ceramic artist, and since 1987 have worked fulltime at my workshop and gallery in Røros, Norway. Since 2005 my sculptural expression has been inspired by ocean life – marine plants and animals that create an illusion of weightlessness. In recent years I have worked extensively with public art, both nationally and internationally.
Group exhibitions, international
"Kunst in der Carlshutte", Nord Art 2010, Budelsdorf, Germany
"The 5th World Ceramic Biennale 2009 International Competition", South Korea
"29 Concurso International de Ceramica de L`Alcora", 2009, Spain
"Contemporary Nordic Craft Art", Yerba Buena Center for the Arts, San Francisco, 2009, USA
"28 concurso international de ceramica de L`Alcora", 2008, Spain
"Incontro", Tolfa, 2005, Italiy
"Nordisk konsthandverk", Varberg slott, 2005, Sweeden
"Conceptual craft: New art from Norway", Lincoln, 2005, England
Group Exhibitions in Norway
"Taktil" (Tactile), District Exhibition, Hå gamle prestegård, 2008, Rogaland
"Typisk Norsk?" (Typically Norwegian?), Vigeland Museum, 2005, Oslo
Solo Exhibitions
"Kunsthåndverk fra Røros" (Arts and Crafts from Røros), Nord Trøndelag Fylkesgalleri, 2010, Namsos
Vektløst liv" (Weightless Life), Søgne gamle prestegård, 2010, Søgne
"Overraskende strukturer" (Surprising Structures), Kunstnersenteret i Møre og Romsdal, 2009, Molde
"Ukjent liv" (Unknown Life), Norwegian Forest Museum, 2009, Elverum
"Keramiske skulpturer" (Ceramic Sculptures), Sogn og Fjordane Art Museum, 2007, Førde
"Per Lysgaard", The Smeltery at Røros Museum, 2006, Røros
"Alternative livsformer" (Alternative Life Forms), Nord Trøndelag Fylkesgalleri, 2005, Namsos
"Per Lysgaard", Gallery Elgen, 1991, Tynset
"Per Lysgaard", Den Danske Bank, 1976 and 1977, Tåstrup, Denmark
Public Art Commissions.
Røros Hotell, Røros 2017  "Under"

Røros Hotell, Røros 2016  "303 fisk"

Brekken grunnskole, Brekken, 2015. Røros

Grunnskole, Røros 2014

Reiselivets Hus, Røros 2012

Sunndal videregående skole, Sunndalsøra, 2010. Konsulent : Martin Due

Bråta bo- og aktivitetssenter, Mjøndalen, 2009. Konsulent : Barbara Vogler

Strandebarm barne- og ungdomsskole, 2008. Konsulent : Marianne Sørheim

Norges Fotballforbund, Oslo, 2008;

Riksrevisjonen, Office of the Auditor General of Norway, Oslo, 2007

; Rørosbanken, Røros, 2005

Kystad Sykehjem, Trondheim, 2003. Konsulent :Britt Dyrnes
Coop (Cooperative Retail Company), Fredrikstad, 1996
Tynset Municipality, 1995
Quality Røros Hotell, 1992
Coop, Røros, 1991
Public Acquisitions
Nord Trøndelag Fylkesgalleri (regional art gallery), Namsos, 2005
Memberships
Norwegian Association for Arts and Crafts (NK)
Norwegian Visual Artists Association (NBK)
Norsk Billedhuggerforening (a national association for sculptors in Norway)
Trøndelag Bildene Kunstnere (Trøndelag region's association for visual artists)
Styreverv
Norwegian Association for Arts and Crafts (NK), Central Norway (North and South Trøndelag and Møre og Romsdal), 2010 –
Stipends
Freight stipend, Norwegian Association for Arts and Crafts, 2009 and 2010
Travel stipend, Norwegian Association for Arts and Crafts, 2009
Exhibition Stipend, Arts Council Norway, 2006
Travel Stipend, American – Scandinavian Foundation, 2006